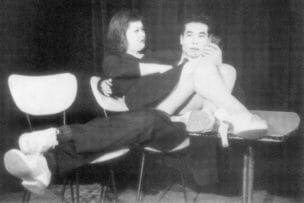 About a year after Atsumi came to the theater, he fell ill and asked Atsumi to give him a rest. When I went to the hospital, I saw tuberculosis of the lungs! Tuberculosis is a serious disease that we have to be aware of death at that time. It had progressed considerably, and I was immediately hospitalized and underwent a major operation for right pneumonectomy, and after that, I spent nearly three years in recuperation. I think he saw hell there. Many died of the same disease, and the morrow dreadful and fearful. On top of that, while I was taking a break, my rivals were becoming more and more popular, and I saw more and more juniors growing up from below … I guess it was just a feeling of impatience.
On the other hand, it seems that he kept his sick friends together and made them laugh. "Hey, guys, it's time to go talk to me!" … What do you mean by that? I heard that patients and nurses really got together.
Atsumi is a natural comedian after all. I guess they couldn't help performing under any circumstances. That's why when I came back, my acting didn't deteriorate at all, and on the contrary, it was brushed up and my personality became very gentle. That's amazing! where his former wild fury had gone, and he had never drunk or smoked, and had become a quiet and gentle man. Well, I learned a lot from his attitude, even though I was only about 20 years old at the time, to see if people could change this much after overcoming hardships.
Atsumi's momentum after returning did not know where to stop. I should have lost my position because I had been away from work for three years, but my teammates greeted me with "The leader's back!". And to live up to their expectations, they give a wonderful performance that is worthy of the chairman's name. I thought this person was really a great actor. People on TV and in movies can't be silent. After being drawn, he left the French theater less than a year after returning. I've got it straight. It must have been a terrible blow to us, but my father was more than anyone else happy that the actors were leaving his theater. "Be successful." he said cheerfully. … I felt a little lonely.
Atsumi moved to the world of TV and gradually increased the number of programs he appeared in, though they were not immediately popular, and he became a star through NHK's variety show "Yume de Aisho" (Let's meet in a dream), and became Tora-san in the movie series "Otokowa Tsuraiyo"! After that, everyone knows what happened.
… By the way, when Atsumi was still recuperating, a university student entered the literary club to become a screenwriter. Atsumi had been told by people around him that Atsumi was "a gifted actor but an outrageous assailant" so I wondered what kind of person Atsumi was, what kind of person he was, and when I met him, I was half expecting and half uneasy and longing for the day of his comeback, but when I met him, Atsumi's eyes fell in black and white because he was a quiet and calm person who was 180 degrees different from what was rumored (smile). However, somehow he got along with Atsumi and was inspired by each other to produce wonderful works one after another. This young literary man, Hisashi Inoue, will become a great writer, but in the next issue, we will focus on the story about him!